What can I say? There are still some projects to do on the car before I take it to the track, but the car sounds great, gets good oil pressure, has lots of power, holds temperature, stops, goes, steers.. it even drives straight! The ride hight is identical to the original measurements I took on the Supra, and the whole assembly looks tough as heckydarn! I'm just a little full of myself. Future web pages may not be as exciting, but I'll take pictures of it during competition and keep you updated on modifications I perform.
Note: Captions are on top of photo renditions
I'm trying something a little different: clck on the thumbnails for a larger picture.
Heh-heh-heh! Now that's a tough looking car!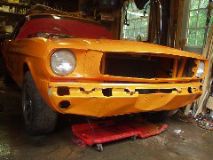 Okay, enough fun. It's work work work again. I sawed up some bits from my old MR2 motor to make a toyota friendly throttle linkage on this 30 year old 750 double pumper.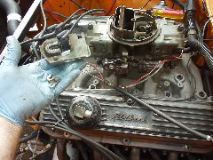 I welded a stop to the bottom of the bracket so that the bracket will not collapse against the carburator under spring tension and repeated applications of the "loud pedal".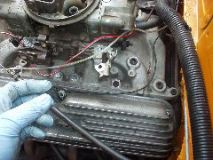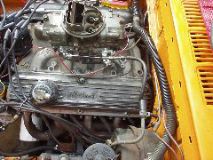 So I drove it around my neighborhood once and returned it to the garage. I hope the police don't come after me...
It's ummm.... it's a very fast car!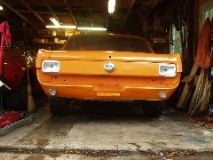 I built a Montecarlo bar. Look at all that room! Note... ehem: Where most Montecarlo bars in Mustangs need to clear the distributor or the air cleaner, this one is so far in front of those items that it's simply not an issue. Part of the reason for that is the engine is set back several inchess in the chassis as compared to stock Mustangs. This is good.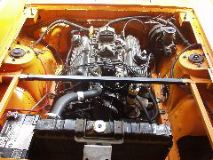 This is just another gratuitous engine shot.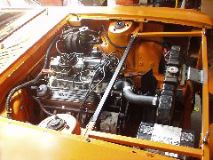 Hey look! Hood pins!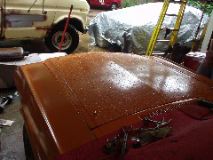 A parting look at the hood pins. Yep. Them's some nice hood pins there. Ay-yup. Sure are.